Lincoln students, don't forget to wear your Christmas socks tomorrow!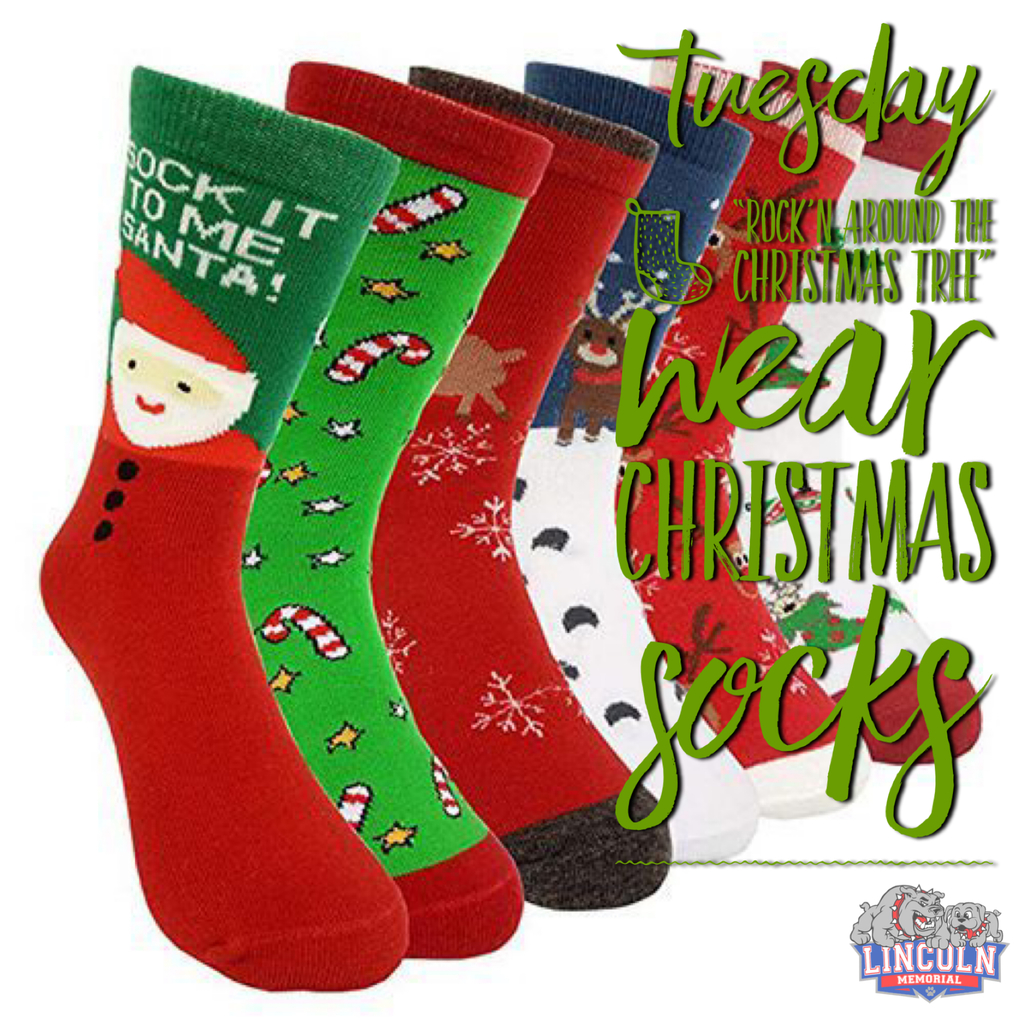 Due to COVID-19 quarantine we will be moving our CVHS band/choir concert to the second semester. We apologize for any inconvenience this may cause with the short notice.

CHANGE IN GAMES AT HUMBOLDT TODAY 12/14 – the boy's games have been cancelled with too many Humboldt players in quarantine. Only the girl's games will still be played today. The A team girls still play at 6:00, B team girls at 7:00, both games are in the main Fieldhouse. Two parent/guardians for the girl's games will be the only parent/guardians allowed in at Humboldt today. Live-stream site: Fieldhouse - 
https://www.youtube.com/channel/UCbsdXzqlXkRiHqvq-hgpJfQ?view_as=subscriber

A reminder to Lincoln students that the STUCO is sponsoring dress-up days this week, starting tomorrow with "Let it Snow!" Don't forget to dress in white. The rest of the week is as follows: Tuesday - Christmas Socks Wednesday - "North Pole" (santa, elves, reindeer) Thursday - PJ day Friday - "All Out Christmas" (ugly Christmas Sweaters)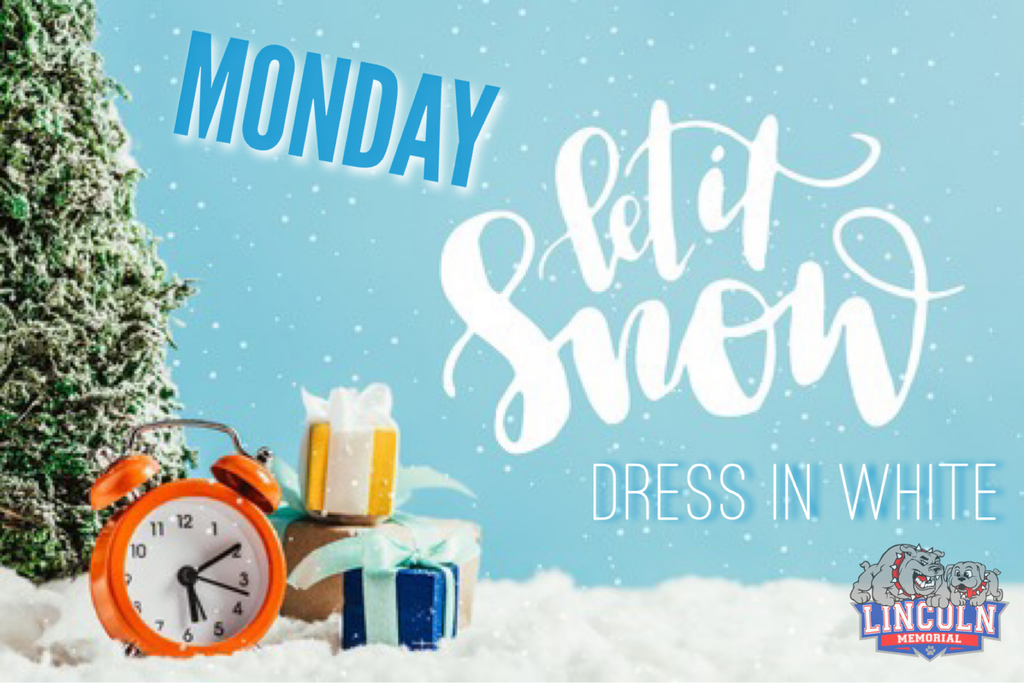 Monday, December 14th, junior high basketball at Humboldt. Two parent/guardians will be able to attend. Only parent/guardians on the admission list will be let in. Temperatures will be taken, wrist bands put on. Masks are required at all times, to say on and to be worn in the correct way, above your nose. If not, you will be asked to leave. No concessions and no food in the gyms. Fieldhouse - A team girls at 6:00, B team girls at 7:00. Old Gym - B team boys at 6:00, A team boys at 7:00. Live-stream sites: Fieldhouse - 
https://www.youtube.com/channel/UCbsdXzqlXkRiHqvq-hgpJfQ?view_as=subscriber
Old Gym - 
https://www.facebook.com/usd258

Caney boys fall to Rose Hill 47-59.

Boys down to Rose Hill 33-40 after the 3rd quarter.

Boys down 24-25 at the half.

Caney boys down 11-13 after the first quarter.

Caney varsity girls fall to Rose Hill 36-53.

Caney varsity girls down 28-35 at the end of the third quarter.

The varsity girls are down 21-26 at halftime.

Due to technical difficulties with the network at Rose Hill we are unable to live stream currently. We also apologize that they are having issues with their Rocket YouTube site as well. The only system that seems to be running is the NFHS paid site.

We are having some Wi-Fi related issues at the Rose Hill game. We hope to be streaming soon so before you pay money to view the Rose Hill live stream give us a few more minutes to see if we can get it up and running!

It has been brought to our attention that the live-stream at Rose Hill for today on the NFHS network will cost $ to view. We are working to get our equipment there to live-stream our own. Before you pay any fee, be sure to check our
https://www.caney.com/page/live-stream
and on our high school Facebook page. We will do our best to get at minimum the varsity girls and varsity boys on. The JV boys game should be on the Rose Hill YouTube link.

Information for the Rose Hill High School/Caney varsity basketball games on 12/12. Rose Hill HS will NOT allow any parent/guardians on Saturday so don't make the trip…here are the times and live stream information they sent. Main gym; 3:30 C boys, 5:00 varsity girls, 6:30 varsity boys. Games in the main gym will be on NFHS for Rose Hill HS. In the auxiliary gym; 4:45 JV boys game will be on live-stream through the Rocket Productions on YouTube.

All Caney parent/guardians only enter the front main South doors for all games, do not enter any other doors. Main gym, only sit on the South side bleachers, secondary gym only sit on the South side too. Caution tape will mark the area to not cross in the secondary gym. To clarify there will be room for two parent/guardians on the admission list in the secondary gym tonight. Again, only enter the front South doors no matter what gym you are going to.

Any parent/guardian planning to attend any games this season NEED to read the attached document and the decide if you will attend or not. Feel fortunate you as a parent/guardian have the opportunity to watch in person, please do your part. Look under the Live Feed if you don't see the attachment. Thank You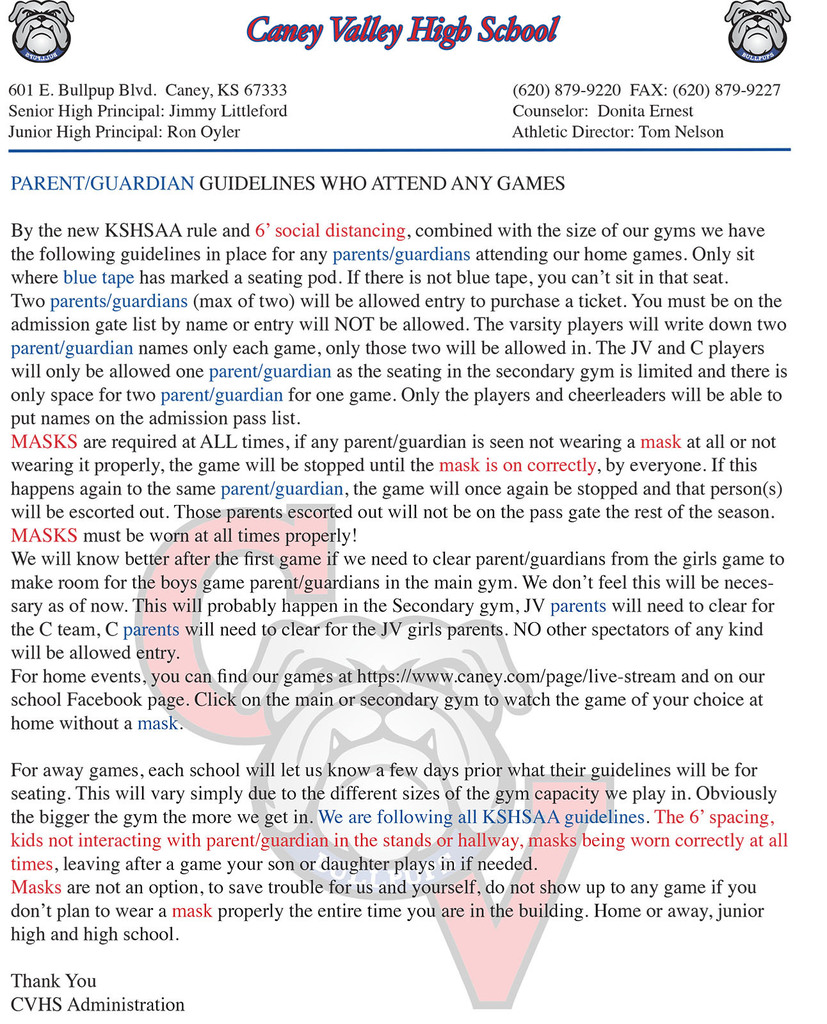 JV wrestling at Coffeyville on Saturday, December 12 will begin at 10:00 am. If you are not a parent with a pre-issued voucher you will not be allowed to enter. Live-stream can be found at  
https://youtu.be/u6HFs8jk3Ys

Playing order of the varsity home games tonight vs. Garden Plain. Secondary gym; JV boys at 5:00, C boys at 6:00. Main gym; varsity girls at 6:00, varsity boys at 7:30. Only parent/guardians will be on the admission gate to enter the game. You can find our games at
https://www.caney.com/page/live-stream
and on our high school Facebook page. Click on the main or secondary gym to watch the game of your choice