The high school play Hillbilly Weddin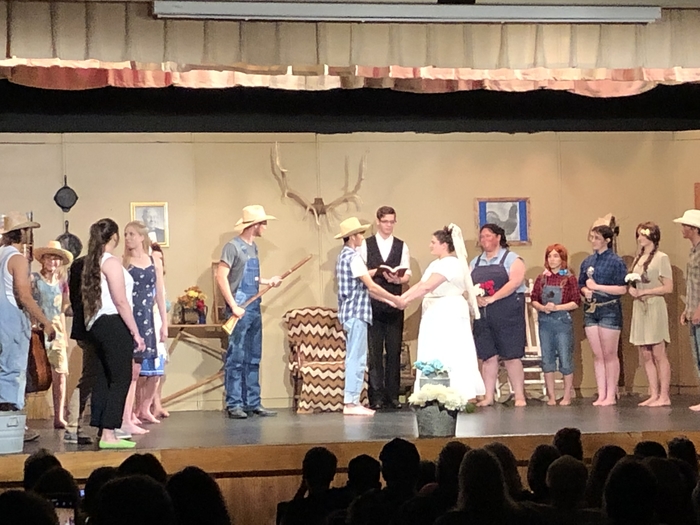 Lincoln reminder: 1st grade city tour and park day has been moved from tomorrow 5/8 to Thursday 5/9 due to the possibility of severe weather. Please remember to send your child with a sack lunch and drink. Thanks
Lincoln reminder: Due to weather, the Kindergarten field trip to Storm Walker Ranch has been canceled and will not be rescheduled.
Lincoln reminder: There will be a Booster meeting tonight at 5:30 in the grade school cafeteria. There will be a vote for new officers so please attend if you are interested!

PUBLIC NOTICE--The USD 436 Title VI Indian Education program will conduct a public meeting at the Lincoln Elementary Library, 201 East First, Caney, Kansas, on Tuesday, May 7, 2019, at 5 p.m.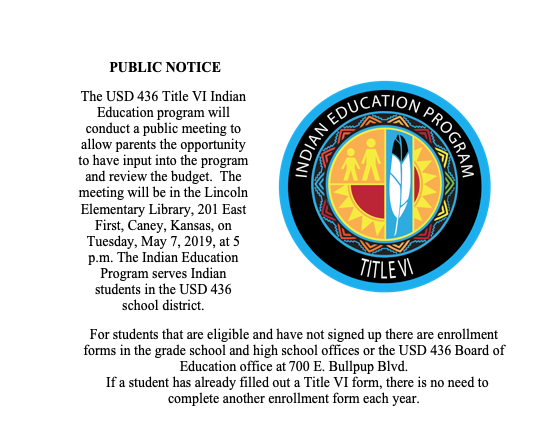 No High School or Junior High Track Practice today!!

Todays Game against Leon blue-stem is cancelled

The varsity baseball game today, 5/3, vs. Leon-Bluestem start time as been moved UP to a 2:00 pm start time. The double header is here is Caney, and will begin at 2:00!

Congrats to Liz Rogers this evening as she was representing the Bullpup Nation at the Night of Scholars and Champions! We are honored to be included in this amazing celebration and thank you to all the sponsors, especially Patriot Auto Group, Examiner Enterprise and Truity!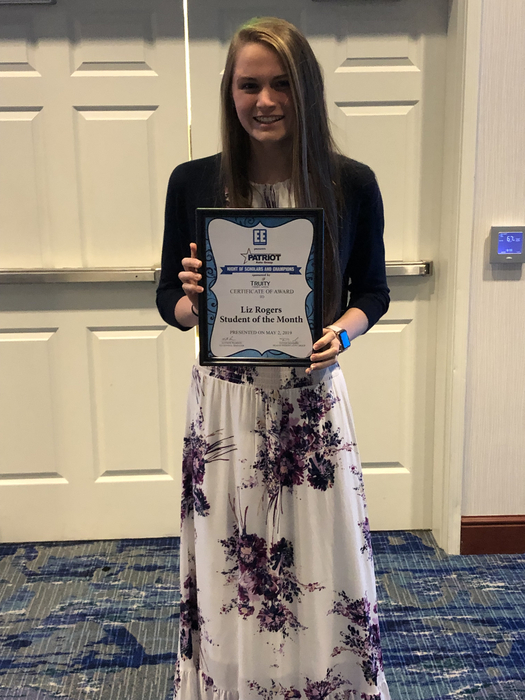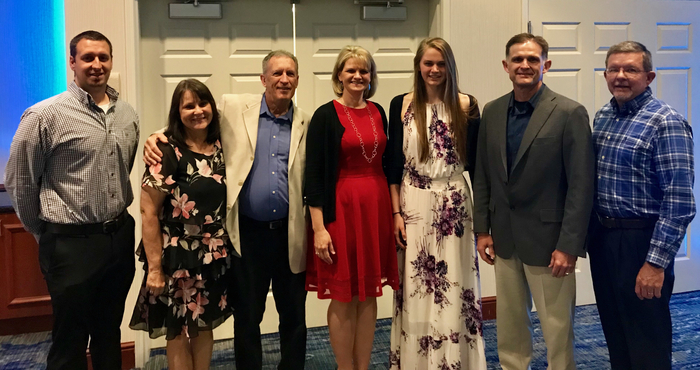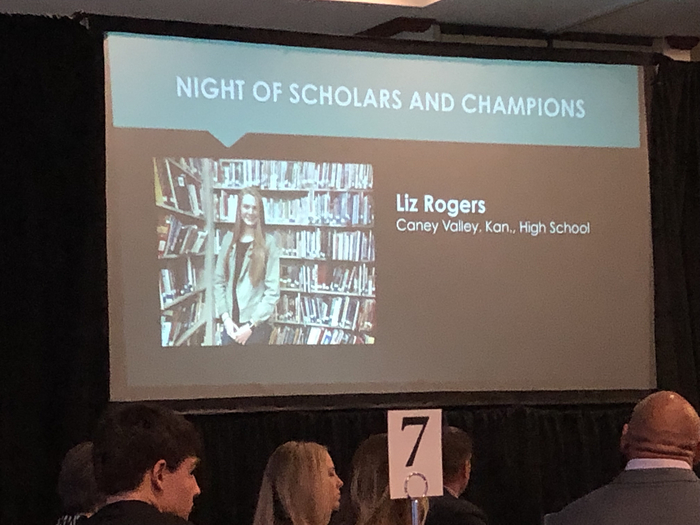 Lincoln reminder:Field day is on as scheduled for Friday, May 3rd but has been moved to the high school big gym. K-2nd will be from 9 to 11 and 3rd through 6th will be 12 to 2:30. Parents may enter through the north west entrance. Lunch will be provided to ALL students by Arvest and popsicles will be provided by the Boosters! If you choose to check your child out early it MUST be done at the grade school. If you have any questions, please call us here in the office.

Senior interview day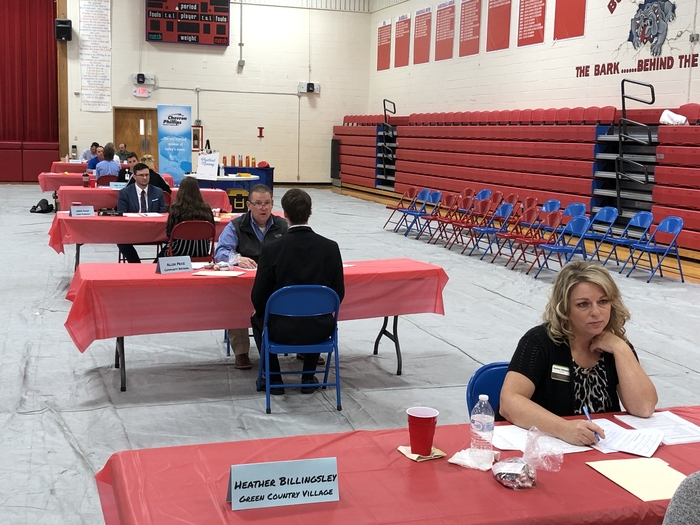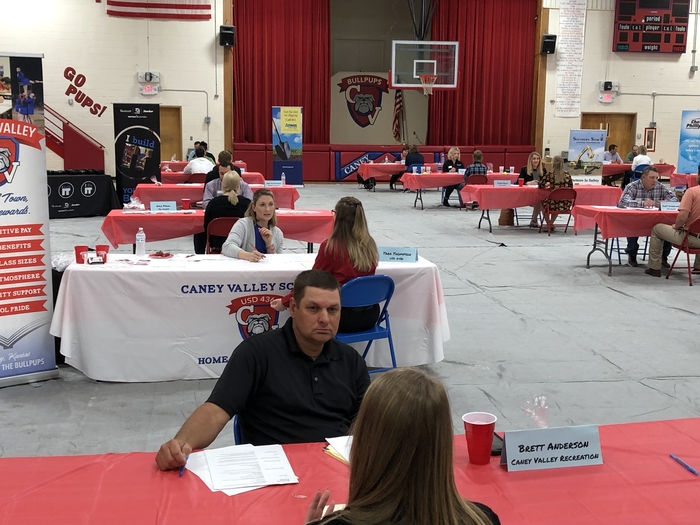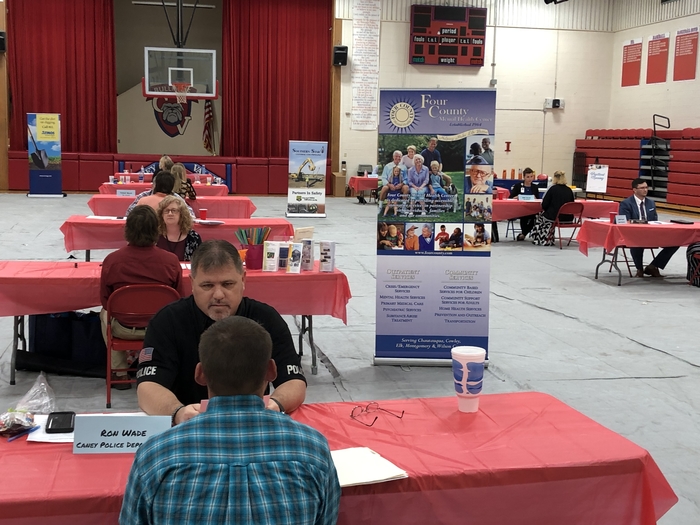 This is a reminder that the Community Health Center of Southeast Kansas will be here on May 8th to provide physicals for students free of charge. These physicals are good for next year for students to participate in sports. Forms were sent home last week with every student and are due tomorrow, May 2nd.

Just a reminder that Kindergarten information packets are available at both Lincoln Memorial Elementary and the District Board Office. Come in and see us soon!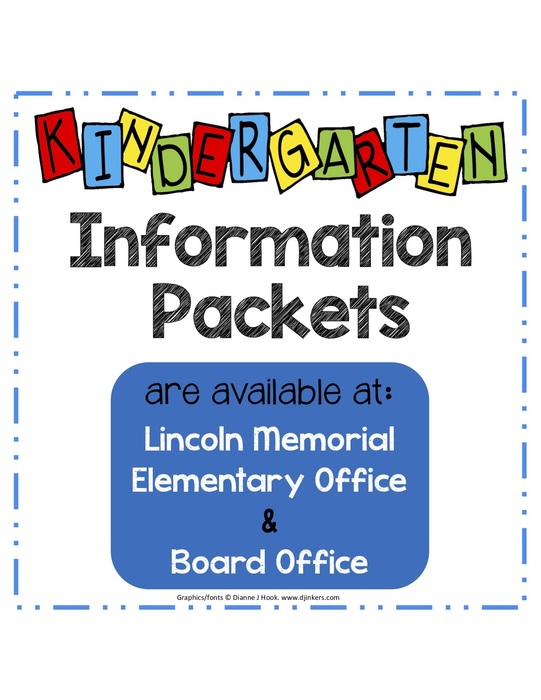 Lincoln reminder: The Kindergarten field trip that was scheduled for this Wednesday, May 1st, has been postponed to next Wednesday, May 8th, due to weather. If you have any questions, call the office at 879-9240. Thanks!

All high school and junior high practices and after school activities for Tuesday, April 30th have been canceled due to the potential of severe weather. All students need to leave at 3:30 and not be at the school for any reason.

The varsity golf meet in Coffeyville has been postponed and moved to May 7. The JV softball games in Columbus have been canceled. Junior high golf in Columbus has been canceled. The junior high track meet in Fredonia has be postponed to Monday, May 6, starting at 2:00 pm.

Activities for 4/29 here at CVHS! The Caney track meet is still happening as scheduled for today. The baseball and softball games are also a go for today BUT the game times have been moved up to a 3:00 START!! Home varsity baseball/softball games now begin at 3:00 pm today!!
Lincoln reminder: Arvest Bank has graciously agreed to provide lunch for all students on field day! They will be serving hot dogs and chips. There will be no sack lunches provided by the school that day but your child may bring their own if they wish. Thank you, Arvest!

Is there a better way to start a beautiful weekend that receiving your Challenge Award? Thank You to Jim Porter for making the drive and recognizing the Bullpup Family on their hard earned award.

Dear Senior Parents, The Senior English teachers have planned a Senior Mock Interview day. We have approximately 15 local businesses coming to CVHS on May 1st, from 12:00-3:30 in support of our seniors gaining some practical, real-world experience with interviewing. They will interview with 2 different people (that have interview experience) and get feedback. Students have already typed up resumes and we would like for them to have some sort of manilla envelope or folder to hold their resumes, references, etc. They will need to dress professionally for this day. It can be how they would dress for game days, or to go to a wedding or church. The typical interview attire would be preferred, but you don't need to go buy something special for this day. We will also be providing lunch (pizza) for the Seniors as it is close to lunchtime. We would greatly appreciate your assistance in helping your child prepare for this day. Please don't schedule any appointments for your seniors on this day. They will be signing up for the interviews times, and we are working on preparation and tips during class as well. Thank you in advance for helping us make this MOCK interview day a success! Sincerely, Senior English Teachers