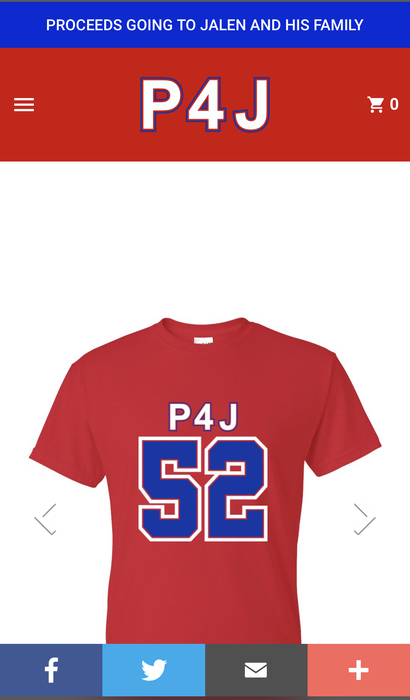 The CVHS girls golf team finished 3rd in the state with a 383! Individuals in the top 20, Hannah Hedges 8th with a 90, Liz Rogers 9th with a 91, and Bailey Price 15th with a 95.

2018 League Football Champions!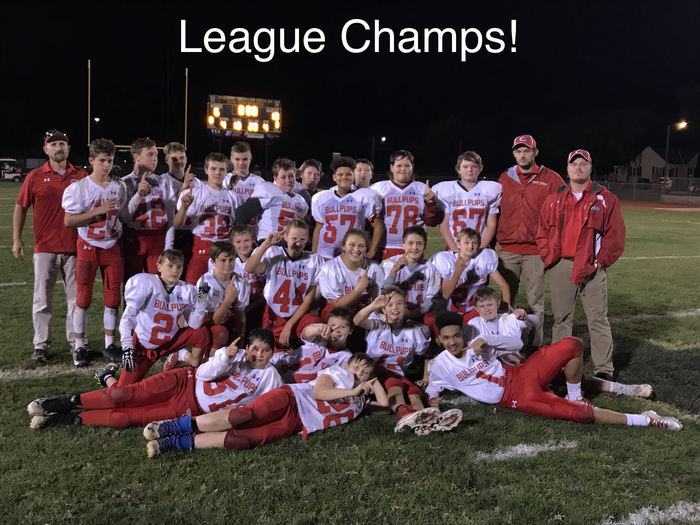 We have an individual boys CC league Champion, congrats Caleb on an amazing accomplishment! Our ladies took second in league, what a day BULLPUPS!!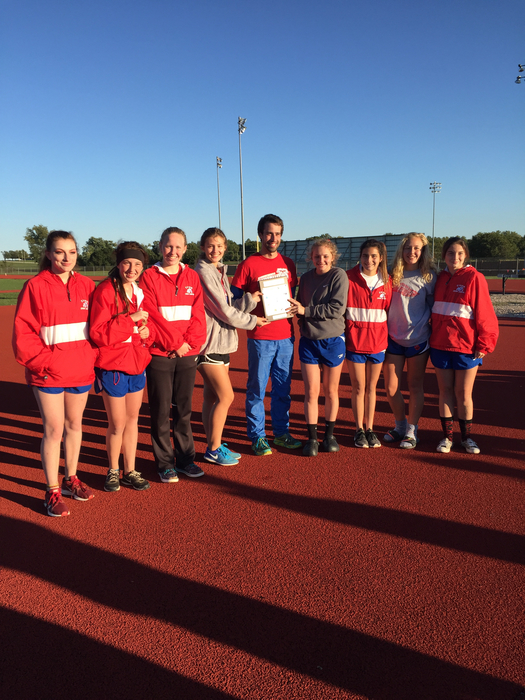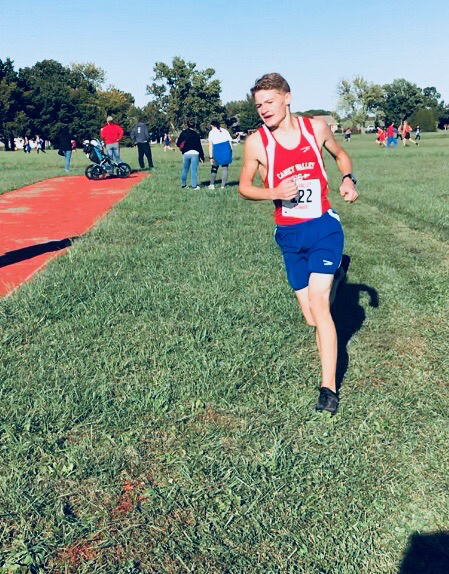 Please be sure to check our social media for an important message. Don't forget homecoming parade this evening starts at 8:00 and coronation is tomorrow at 6:00! Have a great evening Bullpups.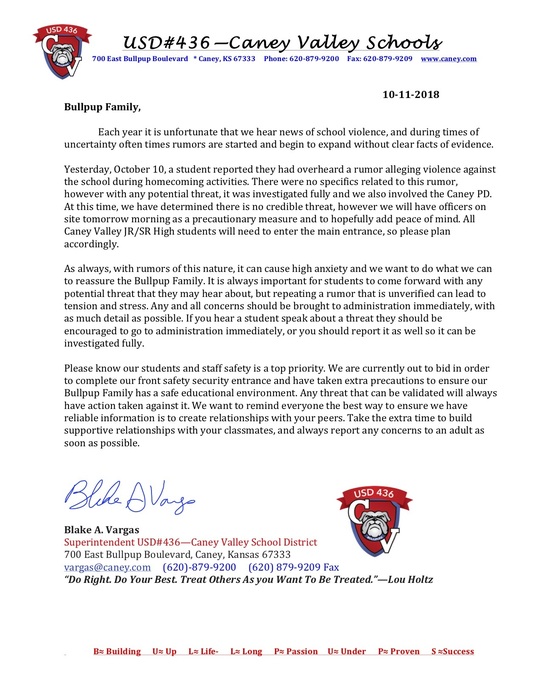 The JV Football game scheduled for Monday, Oct. 15th in Parsons will begin at 5:00 instead of 6:00 p.m.

The varsity volleyball team battled strong in Fredonia but fell short in both matches. Vs. Galena: 19-25, 25-19, 14-25; Loss Vs. Fredonia: 25-27; 25-22; 22-25; Loss

Lady Pups are Regional Golf Champs for the 9th straight year! The girls shot a 383 on one of the toughest courses in southeast Kansas and won by a 69 stroke margin! Hannah placed 2nd, Liz 3rd, Bailey 4th, Lyndon 5th, Kalyn 7th and Kloie 17th. Five regional medalists! Next up, State at Emporia next Monday Go Pups!

The JV Football game tonight here in Caney has been moved to the practice field or track east of the high school at 6:00 p.m.

Friday is homecoming and coronation will begin at 6:00 p.m. instead of 6:30 p.m.

The CVHS lady golfers will be going for a 9th straight regional championship tomorrow at Pittsburg. Play will begin at noon. Scores will be posted on the KSHSAA web site.

Robert Morgan from the Montgomery County Conservation District came to talk to 1st-3rd grade students about our world and the water around us. The students were able to get into the earth balloon to see the world from a different view.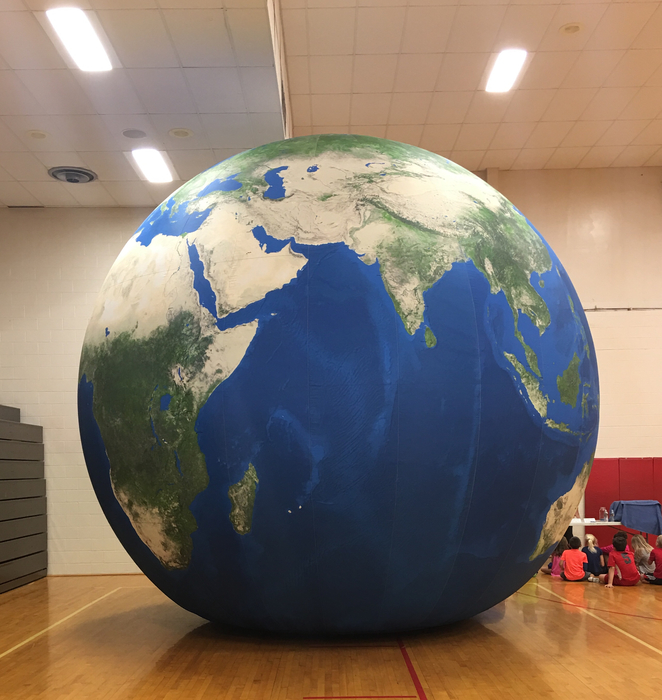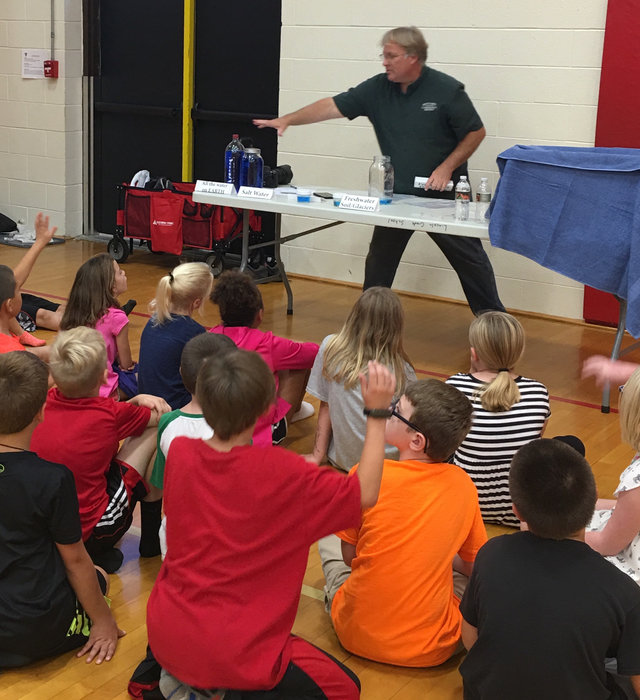 Tough fought game. It was a dogfight for sure! Proud of our Bullpups, they never quit, and I tip my hat to Galena for a well executed game plan. Time to regroup and come back stronger!!


Big Night for the Bullpups here at home!!!! Varsity Football against Galena at 7 p.m. Hope everyone comes out to support the Pups!!!

We're still in session today! Some media outlets report Caney Valley out due to water, but that is Ramona, not us! Nothing can stop the battle of the undefeated tonight! Go Pups!

Varsity volleyball goes 2-2 at the Burden Tournament today. 9/22 Caney Vs Attica - 7-25, 17-25 Loss Caney Vs Argonia - 7-25, 13-25 Loss Caney Vs Central Burden - 25-22, 22-25, 25-17 Win Caney Vs Sedan - 25-11, 25-5 Win Go Lady Pups

The Bullpup football team takes down Columbus 24-6! Big win for the Pups!

Girls golf finishes 2nd at Fredonia Invitational. Liz finished 5th, Lyndon 7th, Bailey 9th, Hannah 11th, Kloie tied for 12th and Ava finished in 15th place. Team score of 190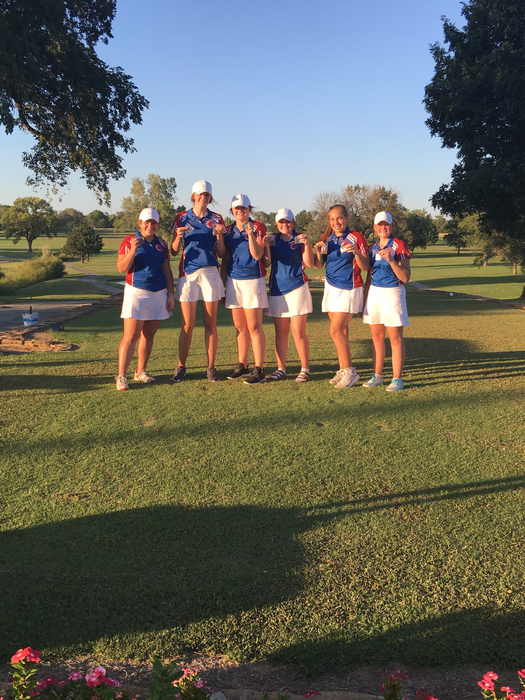 Lots of activities at CVHS today Girls Golf-Varsity will play at Fredonia 3 pm Volleyball -Varsity will be playing at Oswego at 4 pm HS Choir are at Winfield at the All-State Festival JH VB will play Neodesha here at home at 4:30 pm JH Football will play Neodesha here at home at 6 pm Come out and support your Caney Bullpups!!!

The lady golfers JV squad earned a first place team finish at Erie. Ava Freisberg is tournament champion with a great score of 50. Taylor Gililand and Kimmy Salazar placed in the top 10. Other members of the winning team include Jillian Summers, Taylor Browning and Peyton Watts. Way to go ladies!